The first time I ever doubted Bob was after the Huet trade. I assumed it was going to lead up to something bigger (as in, Hossa). Anyway, people started hassling him for not landing Hossa. After looking at what the Pens gave away for him, I knew it was good of him not to. Take a look at the Pens now, they lost Armstrong, Christensen and Esposito and a draft pick for Hossa and Dupuis. Good thing Bob didn't pull the trigger on a deal like that or this team would be destroyed (not that they aren't already). The Pens were screwed. Once the season went to waste after they got eliminated, they had basically traded away three solid, young players, for Pascal Dupuis. Once I found out that Huet was gone for sure and the Habs weren't getting Hossa, I had confidence in Price to play well and get far in the playoffs. He led the Habs to first place in the conference but the playoffs proved to all of us that Price still needs a lot of experience and more support from a veteran goalie, like Huet. Bob definetly should have worked on that during the summer, maybe signing a goalie like Olaf Kolzig or even signing Curtis Joseph would have done the trick in my opinion.
Bob's work to land Lang was great. I was so happy when he pulled it off. Imagine how much better this team would be with a solid centre.
As for Laraque, the thing about BGL is that he can do some damage, but nobody knows how to use him, and let me tell you, putting him on the first line is not the way to use him, especially when you split up the best trio of the season to do so. In my opinion, BGL should be getting 15 minutes a game but with players like Kostopolous and Stewart, not Kovalev and Koivu.
Losing Streit must be Bob's second biggest mistake, after the Huet trade. Too bad he only realized that Streit was the key to the Habs' powerplay after half the season was done. He and I included beleived that it was a team effort on the powerplay, and not simply because of one player, just like what we saw when Souray left. Now we have Schneider who is doing a decent job, but it seems that it was too little too late.
Metropolit is great. He must have the best hands on the team (after kovy, obviously, but kovy only likes to use his skills half of the time). Every time Subway gets the puck around the boards, I feel very comfortable that he will come out with the puck. I'm very gald Bob claimed him off waivers, the Habs needed him desperately.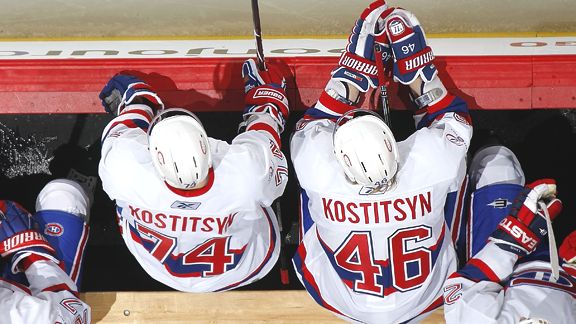 Now for the Kostitsyn brothers, I blame the media. From the get-go they did not like them because they are Russian brothers and the media assumes that they plot against the team (because thats what Russians do in there spare time, apparently). Then there is the gangster friend incident, involving booze, women and cars. The incident basically gave permission to the media to personally attack the two young brothers.
As for Plekanec, I have nothign to say about him. I'm confused. I have the feeling that Carbo didn't like him but I have nothing to back up my opinion so I'll just leave it at that.
Koivu on the other hand, I have something to say about. How can people not love this guy? He has been one of the most consistent players this year. His injury slowed him down quite a bit but he got back up and it seemed that every line he played on always had good chemistry. I love Saku. The french media keeps creating issues that have never existed about Koivu's captaincy, and his leadership in the locker room. And about the whole booing saku thing, I beleive the booing wasnt because he cant speak french, obviously. I think the only people that cares about the french thing, is the media because they think that people care. Sure it would be nice to see a quebecois comme capitaine but no one in their right mind would take it off Koivu's chest to put it on a french 23 year old, third liner, except for the french media of course (most notably Rejean Tremblay) . They were booing because they dont beleive that there was enough leadership from him in the dressing room and that it is because of him that Carbo got fired. I've never understood how people know what happens in the dressing room. How do they know who's taking a leadership role? Someone please explain that to me.
As for Carbo, I'm glad he got fired, in fact, I believe it should have happened much earlier. Carbonneau did not like the most skilled player on the team and evidently, that creates a problem. I can somewhat prove that theory:
-Carbo hates Kovy
-Carbo ask Bob to bench Kovy because he thinks that its his fault that the team isnt playing well.
-Bob benches Kovy
-Team continues to play badly
-Carbo gets fired because it's obviously not Kovy's fault that the team is performing poorly
And I'm guessing I'm not the only one that noticed that Kovy started playing ridiculously well a few games after Carbo was fired.
And Carbo also got fired for chasing away players like Perezhogin, Grabovski, Rivet and eventually the Kostitsyn brothers and Plekanec. In Perezhogin and Grabovski's case, he took these young talented players and brought them into a line-up that was already filled with good players. Carbo figures that since they're so good he'll squish them onto the fourth line. Now Perezhogin is playing on the fourth line with some no name guy that can't receive a pass and whose main objective is to hit. He gets 7 minutes a game playing along players that can't play at his level. Since he doesn't produce, Carbo benches him. Those players should have stayed in Hamilton longer instead of being squished into the line-up. Now Perezhogin is a top 3 scorer in the KHL and Grabovki is playing fairly well on Toronto's top two lines. Carbo did the same with Plekanec this season. He had a couple of bad games so he puts him on a line with greek lightning who can't get his passes and BGL or Dandy. How is he supposed to get out of his slump while playing with those players? Its ridiculous! The only reason Tom plays well with Mad Max and Gui the Tender Bear is because they dont pass, they cycle along the boards then crash the net. I've never seen Kostopolous receive a pass cleanly.
And as for Carbo spreading fourth liners through out the line-up, he must have lost his mind. Its the most ridiculous strategy I have ever heard of. The worst was when the habs were playing poorly defensively and werent winning games, so he took Gorges and put him on the fourth line. Now someone please explain to me how taking a solid third defenseman and putting him on a foward line to have 7 minutes of playing time help your defense. How idiotic.
Anyway, back to Bob, this season was filled with injuries, way more then last year, and that was the biggest problem. I dont expect Bob to be able to predict injuries.
Thats all for now.
Please comment.